In commemoration of one of Gerhard Richter's first museum exhibitions from 25 June to 21 August 1966 at Museum Wiesbaden, the museum will be showing an overview of the artist's early paintings.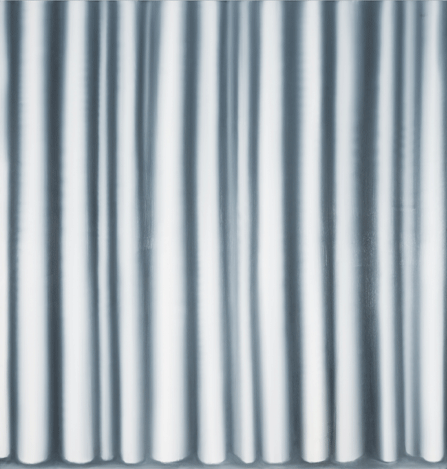 Early Paintings
Gerhard Richter (*1932) is an artist whose work moves beyond the distinctions of abstract and representational painting. His paintings neither cultivate the self-sufficient interplay of color and form nor do they offer a faithful depiction of reality. Richter's work, instead, poses questions about representation even when reality and its facts constitute the subject of his paintings. This is true, in particular, of his door, curtain and window paintings of the 1960s. Other central motifs of Richter's painting include streaks and clouds, passageways and doors, all of which are symbolic of his ongoing critical examination of representation and abstraction. The exhibition juxtaposes with these works selected landscapes and portraits – photo paintings whose figures move fluidly into the planar, lending their subjects the ambiguity to which the artist aspires.
In cooperation with the Kunstmuseum Bonn and S. M. A. K. in Ghent, Museum Wiesbaden presents the exhibition Gerhard Richter — Early Paintings as its third station in an expanded version which also reflects the exhibition history of our own institution.
Short Biographie
Gerhard Richter, born 1932 in Dresden, grew up in Upper Lusatia. After the Second World War, he began an apprenticeship as a calligrapher. In 1951 he was admitted to the University of Fine Arts in Dresden. After completing his studies under Heinz Lohmar, Richter was given his own studio at the university. In 1959, Richter visited Documenta II in Kassel. In March 1961, he fled via Berlin to the West, together with his wife Ema (Marianne Eufinger), whom he had married in 1957. In the fall of 1961, he began his studies at the Academy of Fine Arts in Düsseldorf, where, after the first semester, he and Konrad Lueg (Fischer) studied under Karl Otto Götz. In 1966, at the suggestion of Götz, who had been a friend of the museum director Clemens Weiler since the mid-1950s, Richter exhibited together with Lueg, Sigmar Polke, Thomas Bayrle and others for the first time at Museum Wiesbaden. From among the works at that original exhibition, Museum Wiesbaden is showing Curtain IV, a central work of the current exhibition.
The curtain, window and door paintings, in particular, show Richter's conceptual examination of what a painting is and can be. The curtain or window motif is art-historically charged, always bearing the suggestion of an "other" behind the image surface. Especially the curtain as a "secretive" image surface offers an introduction to the interpretation of the motif as an abstract representation that transitions/moves/flows into a pattern of pure painting. Similarly, figurative objects in Richter's photo paintings begin to disappear or appear through the application of color.
Museum Wiesbaden's collection contains six of Richter's early works from 1964 to 1968 and, together with other early works from the years until 1974, the current exhibition shows Richter's fundamental examination of the medium of painting, which began in the early years of his artistic production and continues to this day.